Online Information :
Free

Available Bonuses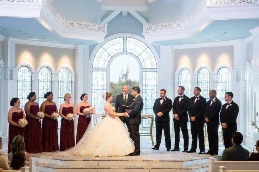 Here is a brief video explaining what you do during the ceremony. It's easier than you think. Watching this video often eliminates the need for us to be at your formal rehearsal – thereby saving you the $100 rehearsal fee.
Marriage license by mail………………………………………………
$100
For "out-of-state couples" only – the Brevard County Courthouse only charges $86 to provide the marriage license by mail. Avoid the middleman companies that were charge you $200.
Free Name Change Kit………………………………………………
$25.00 Value
New and updated. Same kit seen on other bridal websites. Shave 5 hours off the name change process and avoid multiple trips to the DMV or Social Security office by following the right system.
Free Ceremony Planning Kit …………………..…………………
$14.95 Value
This kit allows you to easily pick your choice of favorite ceremonies, vows, and special options. Special options for Catholics, blended families, interfaith practices, cultural traditions, etc. Ceremony Planning Kit
Free Consultation ……………………..….…………………….……
$25.00 Value
Meet your officiant and go over your ceremony options as though it was a "mini" rehearsal.
Free Premarital Home Study Course …………….……..……
$25.00 Value
We will provide this PDF course for the two of you at no charge. The certificate of completion will allow you to obtain a discount on your marriage license of $32.50. https://www.abeautifulceremony.net/premaritaleducation.html
Discount on Marriage License …………..………………………
$25.00 Value
Florida residents who take the above premarital course will also be granted a discount on the marriage license of $32.50
Free Report:
"Warning: Don't Hire an Officiant Without Reading This". Twelve questions to ask to make sure the quality of your ceremony is protected and special.