A Beautiful Ceremony
Orlando Wedding Officiants and Ministers
Hundreds of Five-Star Ratings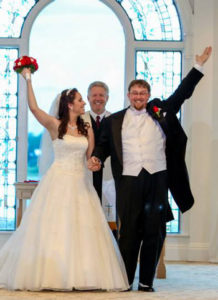 You Receive:
Free Ceremony Planning Kit w/ videos ($14.95 value)
Free Name Change Kit ($29.95 value)
Free Online Premarital Course ($19.95 – optional)
Premarital Certificate of Completion ($25 value)
Free Ceremony Consultation and Review
Marriage License by Mail Info
Step-By-Step Guidance
Inquire NOW and Receive Free Resource Kit and Quick Quote
Fees vary depending upon location, weekday/weekend, wedding/baptism/vow renewal, rehearsal, etc.
Testimony
Our experience was absolutely wonderful!… Our guest couldn't stop talking about how awesome the ceremony was! Thank you, again for making our day so magical.
Jennifer D – October 25, 2017 (Testimony edited for length)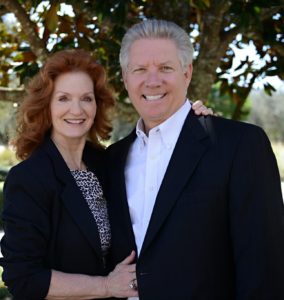 We are proud members of:
Disney's Preferred Officiants List
The Advisory Board for Certified Wedding Ministers
Voted "Member of the Year" by WPCF
As seen on Good Morning America and WSTR Channel 9 Wedding of the Year, Disney's Promotional Christmas Wedding, TV's 'WE' Wedding, Speaker for ABC (Association of Bridal Consultants)
Author of "The Best of the Best Wedding Words", "Secrets of Your Dream Wedding" and "Wedding Etiquette Revealed"
As Orlando wedding officiants and ministers our mission:
To help you have the wedding of your dreams by choreographing and organizing the details of your ceremony according to your wishes.
To make the ceremony preparation easy for you by providing a unique and easy to use our 'Ceremony Planning Kit'. Face to Face and phone consultations are always available.
To help you design the perfect ceremony to fit your personal style, taste, and culture. Our 'Ceremony Planning Kit' provides the resources and flexibility to design a uniquely personal ceremony. See our 'Ceremony Planning Kit' page.
Using our wedding officiants and ministers each bride receives:
Receive a complete Ceremony Planning Kit. You can choose your favorite ceremony, readings, vows and special acts of celebration to create your perfect dream wedding in minutes..
Free Name Change Kit. This kit has step-by-step directions that will make things easier. Includes checklists, forms, and short-cuts to make changing your name a breeze. It will greatly reduce your chance of making a mistake and shave at least 6 hours off the normal process. Valued at $25.00.
Receive a FREE life time membership to the Online Premarital course. This also fulfills the requirements for Florida's Premarital counseling course. When you participate in this course it will save you $32.50 off the cost of a Florida marriage license, but more importantly it will enrich your marriage!!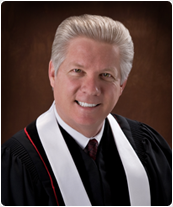 As an experienced wedding professional I will endeavor to make sure things go smoothly, the bride stays calm and her dream wedding comes true.


Sincerely,
Kevin E. Knox
Before you hire a Wedding Officiant
Is the wedding officiant ordained through seminary training or through an online course? If having an 'ordained wedding minister' is important, then very important to verify the wedding officiants' ordination. Many people who present themselves as authentic ordained wedding officiants when actually they purchased their ordination on the internet. True ordination is a 'Calling from God'. It is a 'sacred office' and it was never meant to be bought on the internet as a business license!! 'Online ordination' cheapens both the office and the role of ministry. It also cheats the wedding couple who think that they are paying for an ordained wedding officiant but don't really get one.How do can you tell if the wedding minister has an internet ordination? Some wedding officiants won't openly admit it, so ask them about their church ministry. Do they use their ordination in other ways to serve others (or just to do weddings)? What churches have they served? What denomination ordained them?It's all too common for people to get online ordination and then call themselves a wedding officiant. Several states house

stopped acknowledging 'online ordination'.

Tennessee is the most recent. The Florida Statutes 741.07 state: That all ordained ministers authorized to solemnize marriages are to be 'in communion with some church'. Florida and many other states are realizing that the 'internet' is not fulfilling the requirements of a valid Church-therefore the ordination is invalid. The institutional Churches (Methodist, Presbyterians, Episcopal, Catholic, etc.) are joining forces and petitioning to the states stop acknowledging the counterfeit ordinations.Online ordination should not be used as a business license to become a wedding minister. A better alternative is to become a notary or a justice of the peace. A justice of the peace can perform weddings without portraying a false image of ordination. Justice of the peace weddings do not have to be a nonreligious or civil as many provide faith based ceremonies. Becoming a justice of the peace is easy and can be done online as well.All of the wedding officiants with A Beautiful Ceremony are fully ordained in mainline institutional churches except Teresa. Teresa is a wedding officiant but performs weddings as a notary and a justice of the peace. If you want a non-religious wedding ceremony then all of our wedding officiants are able to accommodate you. It does not have to be a justice of the peace to perform a nonreligious wedding ceremony.
Why does the wedding officiant or justice of the peace perform weddings? The purpose of this question is to make you aware of the wedding officiants' motives and spirit. Are the wedding officiant performing weddings to just make money or do they have a real love for what they do? Your wedding minister should have a genuine passion for weddings and not just see you another $$.All of the wedding ministers with A Beautiful Ceremony work full time in Christian ministry. For us, being a wedding officiant is a means of serving people.
Does your wedding officiant or justice of the peace have a 'back-up' in case there's an emergency? Things happen unexpectedly and wedding officiants should have a good emergency backup plan.AT 'A Beautiful Ceremony' we have a staff of five wedding officiants and one Justice of the peace. In the rare chance one of our wedding officiants is not available we know of other wedding ministers and justice of the peace officiants that we can recommend. Our team of weddings officiants is usually the first one called when another wedding officiant is unable to perform their task.
What do the other vendors say about the wedding minister or justice of the peace? Wedding professionals know a lot about each other and know what wedding officiants have the best and worst reputation. Feel free to ask your vendors for recommendations on what wedding officiant they would use if they were getting married.A Beautiful Ceremony is the most recommended team of wedding officiants in Orlando. We have built our reputation as marriage officiants on dependability, stage presence, customer service and flexibility at competitive price. Wedding minister Rev. Kevin is often the wedding officiant of choice when Disney or other venues are conducting a VIP wedding.
What time will the wedding officiant show up before the ceremony? Arriving at least 30 minutes before ceremony time is a standard protocol for most marriage officiants. Some wedding ministers do not fulfill their promise to arrive within the given time frame. You don't want the stress of wondering if your wedding officiant will be on time.At A Beautiful Ceremony we are so confident that your marriage officiant will be on time that we offer a money back guarantee. We are the only team of wedding officiants that provide this guarantee.
What kind of training does the wedding officiant have? The best wedding officiants follow the protocol dictated by the

Association of Bridal Consultants.

There's a definite procedure and etiquette involved in weddings. If the marriage officiant doesn't know proper ceremony flow and line up of attendants then it can easily disrupt the timing with the DJ, photographer and even the caterer! The ceremony protocol helps all the professionals work together by following the same designed game plan.All of the A Beautiful Ceremony wedding officiants are trained according to the Association of Bridal Consultants protocol. Our wedding ministers are experts in conducting organized rehearsals and wedding ceremonies.
Is the marriage officiant or justice of the peace a member of any professional wedding organizations? There are two very important organizations for wedding professionals. One group is the

Wedding Professionals of Central Florida (WPCF).

They will not allow any wedding ministers to be members of the organization if he/she has a history of poor business practices. WPCF is like the BBB of the wedding industry. The membership in the

Orlando Wedding Group

is by invitation only. The invitation is only offered to those who have an impeccable reputation.A Beautiful Ceremony was voted 'Member of the Year' by WPCF. The wedding officiants of a Beautiful Ceremony is also a member of Orlando Wedding Group, the Orlando Wedding Professionals, and the Advisory Board for Certified Wedding Professionals.
Does the marriage officiant offer a free consultation? Will the wedding minister take the time to meet with you? How will you know if the wedding minister is a good fit for what you want? Hire a wedding officiant that you will feel comfortable being around. Your wedding day is stressful enough without questioning the ability of the marriage officiant to perform.At 'A Beautiful Ceremony' all of the wedding officiants offers a free consultation as well as phone interviews. A phone consultation with your wedding minister will help you review your ceremony options and flow of the ceremony.
What does the wedding officiant offer regarding the ceremony content and planning? Is the marriage officiant able to accommodate your needs for inter-faith traditions, Catholic touches, blended families, allowing you to write your own vows, etc? Does the wedding minister or justice of the peace offer a wide variety of options? Is the wedding minister flexible enough to give you a unique and personal wedding?At A Beautiful Ceremony, our wedding officiants offer a unique 'Ceremony Planning Kit'. It offers a variety of ceremonies, readings, vows, acts of celebration, etc. By picking what you like the ceremony becomes uniquely your own. (This must be a great kit as it has been plagiarized by at many other wedding officiants – imitation is the highest form of flattery 🙂 After you pick your ceremony options your marriage officiant will be glad to review the ceremony order with you.
Does the wedding minister have a great 'stage presence'? Great stage presence among wedding ministers is not at common as you might think. Some wedding officiants come across as nervous, unorganized, and frazzled. Some wedding ministers just read the ceremony out of their book. That's not what you want to see when you look at your wedding pictures and video. The wedding ceremony can't be repeated. Your marriage officiant is the guardian of the ceremony. Your wedding officiant should be confident, secure, and poised and make the words come alive.At A Beautiful Ceremony we train out wedding ministers for perfect stage presence! Our wedding officiants study ourselves on video and strive to be the very best in delivery. As wedding ministers know our ceremony material by heart and delivery it with warmth and with good eye contact. As professional wedding ministers we believe that it's not just 'what' you say but 'how' you say it that makes a difference. Our teams of wedding officiants have the highest standards in training and stage presence.
Will the wedding officiant respect your individual religious/spiritual and cultural beliefs? Weddings often bring together people of all different backgrounds, ethnicities, and socio-economic levels. It is paramount that your wedding minister be able to cater to your needs and know what not to say do as to emboss anybody. Your individual religious and cultural preferences are most importantAt A Beautiful Ceremony all of the marriage officiants are trained chaplains and are accustomed to working with people from different faiths, cultures and traditions. Our wedding ministers respect people's personal beliefs without trying to impose ours on them.
What guarantee do they offer? A wedding officiants' contract or promises are of little value if they don't have a guarantee to back it up.A Beautiful Ceremony is the only group of wedding officiants that offers a full and complete money back guarantee. With A Beautiful Ceremony if we do anything to compromise the wedding ceremony the wedding officiant will offer a full and complete refund!
How are your marriage officiants different from other from other wedding minsters and wedding officiants?
Sadly, many marriage officiants think they know what is right or wrong and best for a couple. Our wedding ministers want their couple to have the best wedding ceremony possible. We believe that only a couple can really know what is a good fit regarding their ceremony content – that's why we provide both the wedding minister and couple with the ceremony planning kit.
Is the denominational faith of your wedding officiant important?
The denominational faith of your wedding officiant is not likely to be obvious. We have wedding ministers and wedding officiants who do civil non-religious wedding ceremonies. We also have a justice of the peace who specializes in non-religious wedding ceremonies only. You can decide if you want your marriage officiant to wear a minister's robe or a suit. The denominational faith of you wedding officiant or minister will not be obvious to you guest.
WHAT'S THE BOTTOM LINE IF WE USE ONE OF YOU WEDDING OFFICIANT'S?
Freedom and flexibility. All of our wedding ministers and wedding officiates are unique in their style and spirit. Our wedding Officiants with are couple-oriented, not clergy oriented. The marriage officiants job and ministry is to interact with a couple in such a way as to provide a ceremony that fits their style and taste. We are a like-minded group of professional wedding officiants who take this concept seriously. We enjoy being wedding officiants and it shows in our customer service.
WHAT DOES 'WEDDING OFFICIANT' ACTUALLY MEAN?
Here's my wedding officiant and wedding minister definition. The word "wedding officiant" is a catch-all wedding marriage industry word for

anyone

legally-able to officiate a wedding marriage ceremony. This includes any marriage clergy, any wedding minister, wedding pastors, officiates, officials, reverends, any civil non-religious ceremony officiant including minister officiants, justice of the peace, i.e, no wedding officiants or wedding ministers who can "legally" officiate a wedding marriage would be excluded from this definition.
A wedding Officiant By Any Other Name: Wedding Minister, marriage ministers and civil officiants are known by many names: minister, officiant, official, pastor, officiate, officiator, wedding officiant, justice of the peace, wedding minister, wedding official, wedding pastor, marriage officiant, marriage minister, ceremony officiant, non-religious officiant, ceremony minister, marriage official, wedding clergy, rabbi, priest, civil officiant, notary,